In Memory
Carl Schwertfeger (Teacher)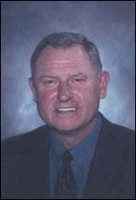 Carl R. Schwertfeger, age 66, of Plymouth, Wis., died unexpectedly Saturday, Oct. 23, 2004, at the Sheboygan Memorial ER.

He was born Nov. 22, 1937, in Milwaukee Wis., to Harley and Virginia (Wegner) Schwertfeger.

Carl received a scholarship to play football at the University of Montana, Missoula, where he received his bachelors degree in education. While at the university he and his brothers were all recruited and played for the Montana Grizzlies.

He taught mathematics and was an assistant coach at Helena High School until retiring. He earned his second master's degree in physical education from Montana State University. Carl's love of sports got him involved in sports officiating, becoming a referee and umpire, which continued throughout his life.

On July 2, 2000, he married Mitzi Pontious Schwab in Helena. Since January of 2001, they have made their home in Plymouth.
Carl had an active Christian life in the Lutheran Church. He was a member and founder of a Lutheran Mission Congregation in Helena, taught Sunday school and remained involved with youth groups in churches wherever he lived.

Survivors include his wife Mitzi, three daughters, Sandi (Tony) Derrig of Billings, Sheri (Matt) Burney of Arlington, Wash., Kristi (Jose) Serrano of Burleson, Texas, and one son Charles (Sharmen) Schwertfeger of Olympia. Wash.; one stepson Lee Schwab, six grandchildren; his mother, two brothers and two sisters.

His funeral is 11 a.m. Friday, Oct. 29, at St. John Lutheran Church in Plymouth. Burial will be in the Highland Memorial Park in New Berlin, Wis. Friends may call at the Wittkopp Funeral Home, 123 South St. Box 246, Plymouth WI, 920-892-2626, on Thursday from 4 to 8 p.m. and at the church on Friday from 10 a.m. until the hour of service. Memorial funds will be established in Carl's name for the American Heart Association, and St. John Lutheran School in Plymouth.