In Memory
Tomas Duffey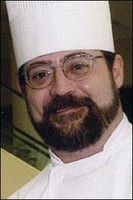 BOZEMAN — Tomas James Duffey passed away March 29, 2006. He was born in Great Falls Aug. 25, 1971. He moved to Helena with his parents as a young child, where he attended school at Warren Elementary, Helena Junior High, and Helena High. He also attended Philipsburg High School. He played Small Fry football as a boy in Helena and played football at both Helena High and Philipsburg High School.

Tom and his family spent many summers digging sapphires at Gem Mountain Sapphire mine near Philipsburg when he was young, and later his teen-age years with his father. Both Tom's father and mother are professional gem cutters, and Tom learned the art and excelled, being known worldwide for his ability. He also helped his father in his heat-treating business. His interests included gemology, geology and photography. Tomas loved the outdoors, hiking and camping. He loved to gaze at the stars, and you could always count on him to know when the next meteor shower was. He loved to bake with his grandmother, which led him to a new career in his life.

He moved to Phoenix with the love of his life, Loni DeLaHunt in 1997. He attended Scottsdale Le Cordon Bleu Culinary Institute and graduated in May of 2005. Tomas worked at Keegans Sports Bar and Taproom for his internship and then extended his stay to nine months. He then worked briefly at the Calico Cow Central and just started working at the Sportsman's Fine Wines and Spirits. His family and friends will miss him immensely.

Tomas touched many lives with his compassion for life, his generosity, calmness and his dry "Krispy Crème" sense of humor.

He is survived by his girlfriend and soul-mate Loni DeLeHunt of Phoenix; grandmother Jean B. Dowell of Bozeman; father Benjamin Duffey of Helena; mother Sharon Voelkel and boyfriend Don Baide of Bozeman; brother Michael Duffey and wife Sarah of Helena; sister Shannon Duffey of Key West, Fla.; stepsisters Amber and husband Gene Langley and family of Missoula; Julie and husband Scott Schneckloth and family of Helena; Debbie and husband Daryl and family of Helena; Susan and husband Lee Tash and family of Portland, Ore.; and stepbrother Harold Voelkel and family of Seattle; and aunt Karla Schenck of Colorado Springs, Colo.

Remembrances may be made to Loni DeLaHunt fund for repayment of Tom's student loans. Loni remains in the home they shared at: 4721 N. Tenth St., Phoenix, AZ, 85014. Cremation was performed in Phoenix and Ben, Loni and Tom will return to Montana for a memorial service at his mother's home in Bozeman Saturday, April 8, at 2345 Arrowleaf Hills Drive, Bozeman. Please call for directions 522-9188 or 539-0149.

We love and appreciate all of you for your calls of sympathy, cards and offers of help. It is truly appreciated by all of us who called him family and friend. Bless you all from the bottom of our hearts.