In Memory
Scott Fiedler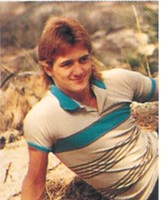 Scott Fiedler died peacefully on Jan. 21, 2007, after a short battle with cancer. He was 37 years old.

He graduated from Helena High School in 1989 and attended ITT in 1993 for drafting where he earned several first place awards.

On Oct. 28, 1995, he married the love of his life, Kandice Steffens; they spent the majority of their life together living in Clancy. Scott had a love for the outdoors, especially hunting, fishing and rugby.

Scott had an extremely playful side that many got to be a part of, or witnessed on a daily basis. His grin and feistiness will be missed. Scott was an avid rugby player and played with the Helena All Blues Rugby Football Club. At the time of his passing, Scott was employed with CK Construction and was a talented lead carpenter.

He is survived by his wife, Kandice; daughter, Destiny; step-daughter, Biannca; step-son, Mike; grandson, Tristan and mother Theresa. Scott is also survived by his mother and father-in-law, Joe and Reggie Steffans, siblings, several brothers and sisters-in-law and nieces and nephews.

The family wishes to invite friends to celebrate Scott's life with them. The family will receive friends during visitation between the hours of 5:30 p.m. to 8 p.m. Thursday Jan. 25, at the Retz Funeral Home Chapel. Cremation services will follow the visitation. Because of the insurmountable medical bills, a fund has been set up to help defray the expenses. Please send donations to: The Kandice Fiedler Fund, c/o American Federal Savings Bank, P.O. Box 4999, Helena, MT 59604.
(Scott's wife, Kandice, passed away in June of 2007 "due to complications of multiple sclerosis and a broken heart.")