In Memory
Leanne Koontz (McMillin)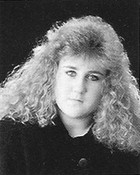 Lora "Leanne" McMillin passed away unexpectedly on January 1, 2000. She was 28 years old.
On September 21, 1971, Leanne was born in Twin Falls, Idaho, to Ron Koontz and Marlys Koontz Mattfeld. The family moved to Helena in 1972 where she grew up and attended area schools. She graduated in 1989 from Helena High School.
During high school she worked at McDonald's, where she quickly became a manager. After leaving McDonald's, she entered into the insurance field where she became a bond writer.
In 1992 she married Michael McMillin. Michael's pet name for her was "Shuwai" meaning "my baby."
Their first-born son, Kyler Michael, was born in June 1995, and he was the apple of Leanne's eye. Leanne was very much the "mother", spending much time playing and teaching her son the best she knew how. Their second son, Koda Shane, was born December 22, 1999.
Leanne only got to spend a few days with her newborn son, Koda, but even with her complications of pneumonia and heart arrest, she showed so much love and caring for him. During her hospital stay her main concern was the boys and how badly she felt that she couldn't take care of them and be with them. She is and always will be missed by her family and friends.
Leanne's greatest joy was being a wife and mom. She cared so deeply. When asked what she did for a living, she proudly replied, "I'm a full-time mom!"
In the last four years you could find Leanne with her beloved husband, Mike, and their son, Kyler, traveling the highways together with his trucking job. They loved each other deeply.
Leanne had a great love for the out-of-doors, especially camping. They have many memories of family campouts. She also loved to fish, however she never could stand to put the worm on the hook. She also loved NFL football and on a Sunday or Monday night you could always find her watching a game and hanging out with her mom and family. Her family and friends will remember Leanne for her unconditional total love for her life and family.
Survivors include her husband, Mike; sons, Kyler and Koda; mother, Marlys Koontz Mattfeld and stepfather Carl; father and stepmother, Ron and Donna Koontz, all from Helena; brothers, Mike and John Koontz of Denver; grandparents, Harry and Doris Jardine of Helena and June Craven of Idaho Falls; step-grandparents, Dick and Janet Autry of Avon; stepdaughters Katrina and Michaela McMillin and Raechelna Patridge; half-brothers, Teddi and Ronny Koontz; two stepbrothers, Scott and Mike Dykman; and many, many aunts, uncles, cousins and friends.