In Memory
Felix Opitz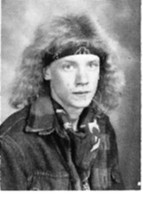 Felix Optiz died on June 8, 1994, in Seattle, Washington.
Felix was born on February 3, 1971, in Madison, Wisconsin, and was blessed in many extraordinary ways with a great spirit, a wonderful mind, caring heart, and special gifts in music and the arts. Felix attended schools in madison, Montana City, and Helena. His adopted home was Seattle.
Beloved Felix is survived by parents Marian and John; sisters Leigh and Eric Hegstrom; Teresa and Brian Bannon, Santi Opitz; brother John Opitz; step-mother Susan Opitz; half-sister Emma Opitz; neice Lauren Hegstrom and nephew Tyler Bannon; and aunts, uncles, and cousins in Iowa, Minnesota, Arizona, and other states.
Cremation has taken place in Seattle. Felix's life will be celebrated by family and friends in Seattle and in Helena in the near futures. Memorials may be donated to the Rocky Mountain Treatment Center, 920 4th Ave. No., Great Falls, Montana, 59401, or to an organization of your choice.