In Memory
William Petek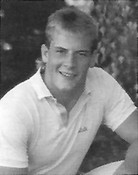 Carroll standout killed in Sunday morning car crash
By IR Staff
The Helena man who was killed in a single-vehicle accident near Garrison Sunday morning has been identified as 30-year-old William Petek.
Petek, who was a passenger in the car, was a star football player at Carroll College and Helena High. He also rodeoed for both Carroll and Western Montana College. He graduated from Carroll in 1994.
Petek holds the record for the longest touchdown run from scrimmage — 99 yards in a game against Rocky Mountain College.
Bob Petrino, who coached Petek, said he was a "110-percent player" who was elected as a captain by the other team members.
"I really loved the guy," Petrino said. "He was a dedicated player. He had a heart of gold."
Petek also spent a year as a coach under Petrino.
According to the Montana Highway Patrol and Powell County Coroner John Pohle, the 27-year-old driver of the vehicle, Kacey Clayborn of Helena, fell asleep and crashed into a tree at about 7 a.m. on U.S. 12, about 7 miles east of Garrison. He was treated and released Monday from Powell County Memorial Hospital.
Petek's brother, Andy, was an All-American defensive end and the Big Sky Conference defensive M-V-P at the University of Montana during the 2000 season.
WILLIAM E. PETEK...
William E. "Billy" Petek, age 30, of Helena, died on Sunday, May 13, 2001, due to an automobile accident.
Billy was born on Sept. 22, 1970, in Helena. He graduated from Helena High in 1989 and Carroll College in 1994. He served nine years in the Montana National Guard.
Billy was one who loved life, no matter whether it was hunting, fishing, camping, baseball, football, rodeo, or coaching others to improve their skills. Billy thrived on anything that involved competition.
Throughout life, Billy's plate was always full. He played for the Helena Reps and Senators, and was an exceptional football player both for Helena High School and Carroll College. He owns the record for the longest touchdown run in Carroll College history — 99 yards from scrimmage, a record that cannot be broken. He was also a member of the Helena Bulldoggers, rodeoing for both Carroll College and Western Montana College. Billy enjoyed working with wood, and has made several pieces including his own furniture for his children and home. His love for construction took him to the far reaches of the world, working with Greenway in Turkey and China.
Bill's love for children kept him active, especially with his own. He was a proud and loving person to all those that had the chance of sharing in a part of his life. Billy's brother and cousins all looked up to him for leadership and guidance, and he was always there for them. He could get them to do anything for him, much to the dismay of their parents. His infectious laughter and wonderful smile will be tremendously missed by all those that knew and loved him.
He was preceded in death by his grandmother, Bessie Petek; grandfather, Kenneth E. McLaughlin; and aunt, Sherri Petek.
Billy is survived by his daughter, Tylee; stepson, Jake; wife, Stacy; parents, Dennis and Connie Petek; brother, Andy; grandparents, Margaret McLaughlin of Helena, and Jim Petek of East Helena; aunts and uncles, Kathy, Patty and Mike McLaughlin, Kenny and Terry McLaughlin of Helena, Larry and Sandee McLaughlin of Missoula, Mark and Lynda Ryckman of East Helena; and numerous cousins.
A memorial Mass will be held at 11 a.m. on Thursday, May 17 at Sts. Cyril & Methodius Catholic Church in East Helena. A memorial fund has been set up at Valley Bank for the children of Bill Petek.